Posts for tag: oral hygiene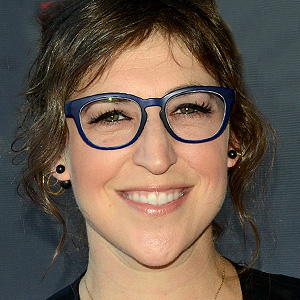 How many actresses have portrayed a neuroscientist on a wildly successful TV comedy while actually holding an advanced degree in neuroscience? As far as we know, exactly one: Mayim Bialik, who plays the lovably geeky Amy Farrah Fowler on CBS' The Big Bang Theory… and earned her PhD from UCLA.
Acknowledging her nerdy side, Bialik recently told Dear Doctor magazine, "I'm different, and I can't not be different." Yet when it comes to her family's oral health, she wants the same things we all want: good checkups and great-looking smiles. "We're big on teeth and oral care," she said. "Flossing is really a pleasure in our house."
How does she get her two young sons to do it?
Bialik uses convenient pre-loaded floss holders that come complete with floss and a handle. "I just keep them in a little glass right next to the toothbrushes so they're open, no one has to reach, they're just right there," she said. "It's really become such a routine, I don't even have to ask them anymore."
As many parents have discovered, establishing healthy routines is one of the best things you can do to maintain your family's oral health. Here are some other oral hygiene tips you can try at home:
Brush to the music — Plenty of pop songs are about two minutes long… and that's the length of time you should brush your teeth. If brushing in silence gets boring, add a soundtrack. When the music's over — you're done!
Flossing can be fun — If standard dental floss doesn't appeal, there are many different styles of floss holders, from functional ones to cartoon characters… even some with a martial-arts theme! Find the one that your kids like best, and encourage them to use it.
The eyes don't lie — To show your kids how well (or not) they are cleaning their teeth, try using an over-the-counter disclosing solution. This harmless product will temporarily stain any plaque or debris that got left behind after brushing, so they can immediately see where they missed, and how to improve their hygiene technique — which will lead to better health.
Have regular dental exams & cleanings — When kids see you're enthusiastic about going to the dental office, it helps them feel the same way… and afterward, you can point out how great it feels to have a clean, sparkling smile.
For more information about oral hygiene, please contact our office or schedule a consultation. You can read the interview with Mayim Bialik in the latest issue of Dear Doctor magazine.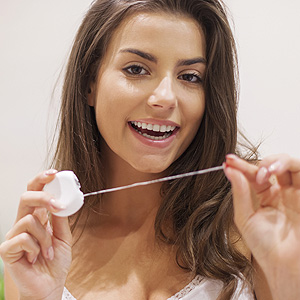 Regular dental visits are an important part of maintaining healthy teeth and gums. But it's what goes on between those visits — daily hygiene and care — that are the real ounce of prevention.
Here are 4 things you should be doing every day to keep your mouth healthy.
Use the right toothbrush and technique. Brushing with fluoride toothpaste at least once every day is a must for removing plaque, a thin film of bacteria and food particles which is the main cause of dental disease. Your efforts are more effective if you use a soft-bristled, multi-tufted brush that's replaced often, especially when bristles become splayed and worn. To remove the most plaque and avoid damaging your gums, brush with a gentle, circular motion for at least two minutes over all tooth surfaces.
Don't forget to floss. Your toothbrush can get to most but not all the plaque on your teeth. Flossing — either with flossing string, pre-loaded flossers or a water irrigator — helps remove plaque from between teeth. Don't rely on toothpicks either — they can't do the job flossing can do to remove plaque.
Mind your habits. We all develop certain behavioral patterns — like snacking, for instance. Constant snacking on foods with added sugar (a major food source for bacteria) increases your disease risk. Consider healthier snacks with fresh fruits or dairy, and restrict sugary foods to mealtimes (and the same for sports and energy drinks, which have high acid levels). Stop habits like tobacco use, excessive alcohol consumption or chewing on hard objects, all of which can damage your teeth and gums and create a hostile environment in your mouth.
Watch for abnormalities. If you pay attention, you may be able to notice early signs of problems. Bleeding, inflamed or painful gums could indicate you're brushing too hard — or, more likely, the early stages of periodontal (gum) disease. Tooth pain could signal decay. And sores, lumps or other spots on your lips, tongue or inside of your mouth and throat could be a sign of serious disease. You should contact us if you see anything out of the ordinary.
If you would like more information on how to care for your teeth and gums, please contact us or schedule an appointment for a consultation. You can also learn more about this topic by reading the Dear Doctor magazine article "10 Tips for Daily Oral Care at Home."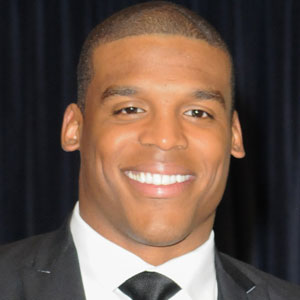 When is the best time to floss your teeth: Morning? Bedtime? How about: whenever and wherever the moment feels right?
For Cam Newton, award-winning NFL quarterback for the Carolina Panthers, the answer is clearly the latter. During the third quarter of the 2016 season-opener between his team and the Denver Broncos, TV cameras focused on Newton as he sat on the bench. The 2015 MVP was clearly seen stretching a string of dental floss between his index fingers and taking care of some dental hygiene business… and thereby creating a minor storm on the internet.
Inappropriate? We don't think so. As dentists, we're always happy when someone comes along to remind people how important it is to floss. And when that person has a million-dollar smile like Cam Newton's — so much the better.
Of course, there has been a lot of discussion lately about flossing. News outlets have gleefully reported that there's a lack of hard evidence at present to show that flossing is effective. But we would like to point out that, as the saying goes, "Absence of evidence is not evidence of absence." There are a number of reasons why health care organizations like the American Dental Association (ADA) still firmly recommend daily flossing. Here are a few:
It's well established that when plaque is allowed to build up on teeth, tooth decay and gum disease are bound to follow.
A tooth brush does a good job of cleaning most tooth surfaces, but it can't reach into spaces between teeth.
Cleaning between teeth (interdental cleaning) has been shown to remove plaque and food debris from these hard-to-reach spaces.
Dental floss isn't the only method for interdental cleaning… but it is recognized by dentists as the best way, and is an excellent method for doing this at home — or anywhere else!
Whether you use dental floss or another type of interdental cleaner is up to you. But the ADA stands by its recommendations for maintaining good oral health: Brush twice a day for two minutes with fluoride toothpaste; visit your dentist regularly for professional cleanings and checkups; and clean between teeth once a day with an interdental cleaner like floss. It doesn't matter if you do it in your own home, or on the sidelines of an NFL game… as long as you do it!
If you would like more information about flossing and oral hygiene, contact us or schedule an appointment for a consultation.