Posts for tag: dental injuries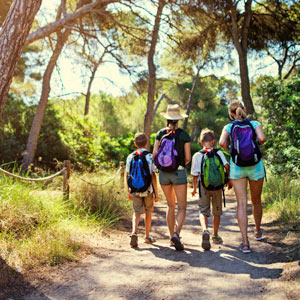 It's July—and that means it's National Park and Recreation Month! If you're like a lot of families, you might already be planning a trip to one of the nation's 58 national parks, or one of the thousands of state outdoor recreational areas across the country.
Temporarily escaping the stresses of daily life in the great outdoors is a wonderful way to refresh both the soul and the body. But that's not an excuse to neglect all your responsibilities. That includes making provisions to care for your teeth while you're away from home—you are bringing them with you, aren't you?
Here are three ways you can take care of your teeth during your outdoor getaway.
Keep up your daily hygiene. While you're packing extra socks, granola and moleskin, be sure to include your toothbrush, toothpaste and floss. Just a few days of neglecting your regular oral hygiene can give bacterial plaque a chance to build up. You could even come back from your trip with the beginnings of gingivitis, an early form of gum disease. If you're trying to pack light, take along travel-size toothpaste tubes or pre-threaded floss picks to make it easier.
Eat dental-friendly snacks and food. Escaping your usual dietary choices doesn't mean you should take a vacation from good nutrition. Whether you're in camp or on the trail, eat whole fruits, grains or cheeses, and avoid snacks and foods with added sugar that feeds disease-causing bacteria in the mouth. The same goes for beverages—keep your intake of sodas and sports or energy drinks (all loaded with added sugar and acid) to a bare minimum. Instead, hydrate with water.
Be prepared for emergencies. Exploration through hiking, canoeing and other physical activities is a great part of the outdoor park experience. But it also increases your risk of injury, especially in rough terrain. Before you head out, take some time to research medical and dental resources near your vacation destination in case you or a family member will need immediate care. Having that information handy can save time in the event of an emergency.
An outdoor park trip can be the experience of a lifetime. Just be sure to follow these simple tips to care for and protect your teeth. Doing so will help ensure that your memories of this summer's outing will be pleasant ones.
If you would like more information about caring for your dental health at home or away, please contact us or schedule a consultation. To learn more, read the Dear Doctor magazine article "Daily Oral Hygiene."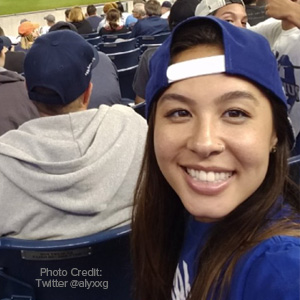 When your favorite baseball team wins, it's hard not to get excited — especially if you're right there in the stadium. It's even better when a player tosses the ball to fans. But sometimes, in the heat of the moment, things can go awry.
That's what happened during a recent game at New York's Yankee Stadium. After catching the ball that ended the game in an 8-2 Dodgers win, Los Angeles outfielder Yasiel Puig tossed it into a cheering crowd of supporters. "I saw it coming at me and I remember thinking, 'I don't have a glove to catch this ball,'" Dodgers fan Alyssa Gerharter told the New York Daily News. "I felt it hit me and I could feel immediately with my tongue there's a hole. And I looked down at my hand and saw there's a tooth in my hand."
Ouch. Just like that, one fan's dream became… a not-so-good dream. But fortunately for the 25-year-old software engineer, things went uphill from there. Ushers quickly escorted her into a first-aid room at the stadium. She was then rushed to a nearby hospital, where the upper front tooth was re-inserted into her jaw. After a follow-up appointment at her dentist's office the next day, Gerharter said she remains hopeful the re-inserted tooth will fuse with the bone, and won't require replacement.
We hope so too. And in fact, she has as good a chance of a successful outcome as anyone, because she did everything right. If you're not sure what to do about a knocked-out tooth, here are the basics:
locate the tooth, handle it carefully (don't touch the root surface), and if possible gently clean it with water
try to open the person's mouth and find the place where the tooth came from
carefully re-insert the tooth in its socket if possible, making sure it is facing the right way
hold the tooth in place with a soft cloth as you rush to the dental office or the nearest urgent care facility
if it can't be replaced in its socket, place the tooth in a special preservative solution or milk, or have the person hold it between the cheek and gum (making sure they won't swallow it) — and then seek immediate care at the dental office
follow up at the dental office as recommended
In general, the quicker you perform these steps, the more likely it is that the tooth can be preserved. How quick is quick? The best outcomes are expected when re-implantation occurs in no more than five minutes. So if you're in this situation, don't wait: get (or give) appropriate first aid right away — it just might save a tooth!
If you would like more information about what to do in a dental emergency, contact us or schedule an appointment for a consultation. You can learn more the Dear Doctor articles "Knocked Out Tooth," and "The Field-Side Guide to Dental Injuries."